Each October is designated as National Cyber Security Awareness Month. It's a time to promote online safety and remind individuals and businesses that everything we do online has the potential to affect everyone -at home, work and around the world. Each of us needs to do our part to make sure that our online lives are kept safe and secure.
As a proud supporter and an official champion of NCSAM, this month's blog posts will promote cyber related fraud prevention awareness emphasizing today's online security risks and potential solutions. National Cyber Security Awareness Month is a time to STOP. THINK. CONNECT when using any of your online devices. Having the latest security software, web browser, and operating system are the best defenses against viruses, malware, and other online threats.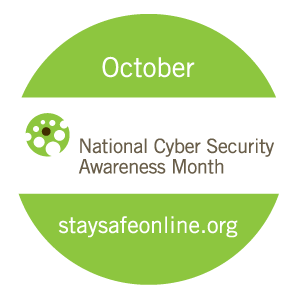 How Safe Is Your Computer?
When it comes to defending against viruses and malware, some people think that they can wait until a problem shows up before doing anything to protect their computers. By that time, of course, your computer has already been infected and it's possible that some of your backed up files are infected as well. This can lead to reinfection and data loss, and in some cases you might even have to format everything and reinstall your operating system. But what do you do if your computer doesn't show any signs of infection?
Not every piece of malware is designed to cause noticable problems. Some are content to lie low, using your Internet connection to send spam messages, transmit passwords and other information to the malware creator and even post scams or virus links on websites without your knowledge. You might notice that your Internet connection seems a bit slower or your computer is a little more sluggish than it used to be, but aside from that there might not seem to be anything wrong. Your computer could be a slave to some hacker or scammer and you wouldn't even know it.
You don't even have to be excessively active online or visit questionable websites for this to happen. You could click on a seemingly-innocent link that comes from a friend via email or IM, or you could install a free program that you found online which has been tampered with to include the malware installer. In some cases you might not have to do anything at all... Microsoft recently announced that they've found that some brand new computers originating in China are being sold with pirated operating systems and malware preinstalled.
You can see how important it is to have an antivirus and antimalware software installed on your computer, but are you completely sure that your computer is protected? As with any product, some antivirus programs are better than others. Some search for malware and remove it while others require a separate antimalware program to remove potentially hazardous programs that aren't picked up by the antivirus engine. Some are free while others cost up to $70 or more per year, and unfortunately price isn't always a sign of quality.
So how can you be sure that your computer really is safe from infections and threats?
Fortunately, there are a number of top antivirus lists published each year by publications such as PC Magazine that test the effectiveness of the latest versions of a number of different antivirus and antimalware solutions.
Webroot SecureAnywhere Antivirus got top scores for a paid antivirus in 2012, with BitDefender Antivirus Plus 2012 also scoring well. AVG Antivirus has been a long-time favorite with free antivirus solutions, though Microsoft Security Essentials has made quite a name for itself as well and some experts say it deals reasonably well with malware when combined with Windows Defender.
If you're looking for a dedicated anti-malware program to help keep your computer clean, Malwarebytes has a strong reputation and is available in both free and paid versions. Do your research before choosing an antivirus and antimalware solution, finding out not only whether the software just detects viruses or if it provides a full security suite but also, what sort of a reputation it has among professionals and everyday users.
Once you've decided on an antivirus or antimalware program, install it and schedule it to perform both real-time detection and daily quick scans and be sure to set the software to automatically update as well so that you aren't missing out on any vital definition changes that could leave your computer at risk.
Additional Ways to Avoid Malware offered by the National Cyber Security Alliance;
Keep a clean machine: Having the latest security software, web browser, and operating system are the best defenses against viruses, malware, and other online threats.
Automate software updates: Many software programs will automatically connect and update to defend against known risks. Turn on automatic updates if that's an available option.
Protect all devices that connect to the Internet: Along with computers, smart phones, gaming systems, and other web-enabled devices also need protection from viruses and malware.
Plug & scan: "USBs" and other external devices can be infected by viruses and malware. Use your security software to scan them.
Protect your $$: When banking and shopping, check to be sure the sites is security enabled. Look for web addresses with "https://" or "shttp://", which means the site takes extra measures to help secure your information. "Http://" is not secure.
Back it up: Protect your valuable work, music, photos, and other digital information by making an electronic copy and storing it safely.
Take advantage of helpful educational resources at StaySafeOnline.org
Though October is designated as cyber security awareness month, cyber security is something that must be taken seriously every month -- and every day-- of the year.