While this is not a new scam, it is by far one of the most persistent that continues to resurface and plague small business owners. I have researched countless articles and stories going back years regarding the FTC's investigations and shut down of these Yellow Page scam operations. As recently as this summer, the news was littered with stories of the FTC's successful shut down of a major Yellow Pages scam operation that evolved to the US out of Canada and Australia. However, the Yellow Pages scam is like a relentless parasite and continues to surface as recently as this week.
This scam operates in several variations, however, most commonly used by the scammers pretending to be part of the real Yellow Pages. The "walking" Yellow Pages fingers logo, we are all so familiar with, is actually not a trademarked symbol. Because of this, scammers can easily create fictitious invoices, websites, email signatures, and publications using the Yellow Pages name and logo.
What we know about the most recent operation is from hundreds of business owner complaints coming in from the past 6 months. While there may be several of these scams going on, most the business complaints we reviewed are referring to a group operating as "Public Yellow Pages" out of New York City. The company address listed on the fraudulent invoices we reviewed, reflect the business address of 405 Lexington Ave, The Chrysler Building, Floor 26, NY, NY 10174. The address alone is impressive and for those of you that are not aware, this is the very home of the New York Times headquarters and several other very prestigious businesses.
These scammers start out strong out of the gate by attempting to deceptively establish a front of a huge, legitimate business operation. However folks, I assure you, these scammers are not operating out of an office on the 26th floor of the grandest building in New York City!
THE SCAM AND HOW IT PLAYS OUT
Scam operations are successful if they have the right components in place, which we often refer to as the "Fraud Triangle". The Fraud Triangle consists of these 3 components, Opportunity, Rationalization and Pressure, all of which are very present in this Yellow Pages scam. I will refer to these below as I explain how this scam evolves.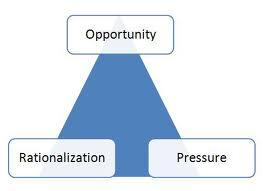 Part 1 - The friendly 'cold call' - In the Fraud triangle we call this OPPORTUNITY which is defined in a scam as the initial solicitation by the offender in regards to their potential victims.
It's a normal business day, just like any other, and you or your staff answers the phone. The person on the other end explains that they are from the "Yellow Pages" and just need to verify a few pieces of information regarding your "free" business listing in the Yellow Pages for renewal purposes. The conversation seems to be innocent enough and after all, their opening statement clearly leaves one with the impression they just want to verify your free listing is accurate. However, at this point, unknown to you, the caller has turned on a recording device and begins to ask a rapid series of "Yes" or "No" questions, recording your voice. Note, one of the questions commonly asked is "Are you authorized to make company decisions?" Still at this point, the questions are vague and seem normal in the course of verifying company information is accurate. One is left to assume they are asking this because they want to insure the person verifying the company information is actually an authorized company employee. Once the caller is done asking the questions, they simply thank you for your time and hang up.
Part 2 - What is this invoice for? - In the Fraud Triangle we call this RATIONALIZATION which subsequent to a successful solicitation, this involves the use of deception and misrepresentation of facts by the offender.
Now, several days later your fax machine signals an incoming fax and low and behold, there is an invoice for $599 from the Yellow Pages for your "new business listing". The invoice has a Yellow Pages Logo, website, email, and a 1-800 phone number to call with questions. The scammers have taken great pains to set themselves up to appear as legitimate as possible. In most cases we have read, faxing invoices makes it more difficult to track these scammers and will be their preferred method of contact.
The fake website they created will even have your company information listed! Now at this point, knowing that you did not order anything, you call the 1-800 number ready to complain. Trust me, they are ready for you. I actually think this is the scammer's favorite part. So, you dial the 1-800 number, it is answered professionally by someone who you believe is a "Yellow Pages" representative and you begin to complain about the invoice you received for services or business listing that you did not order. The representative pretends to be sympathetic and brings their "Supervisor" online to speak with you. In the most recent scam, this is probably going to be "Tyler Wood" or "Ron Williams" from "Public Yellow Pages Network", 800-861-9495.
They are quick to tell you that you or your employee agreed to the listing over the phone and they have the recording to prove it. They will play for you a recording of a generic sales pitch, that you have never heard before, however, at the end, well wouldn't you know it....your recorded voice comes across saying "yes" when they ask if you agree to the renewal listing agreement. They then argue with you that your employee or you verbally agreed and your company is obligated to pay the $599. For those of you that really become irate, they offer to take off $100 to $200. What sweethearts these scammers are!
To the contrary, victims of this scam will actually discover that these scammers are not so friendly from this point forward in the game. I have read countless stories about their repeated threats to ruin your credit and business reputation and even telling business owners to call their local Attorney General to verify what they are doing is legal. At this point, it's like a good game of poker folks....they are calling your bluff to see if you will fold! DON'T DO IT!
Part 3 - Imitating a Debt Collector -In the Fraud Triangle we refer to this as PRESSURE, and in this particular scam the notion of pressure is used as a final tactic to instill fear or provoke an impulsive reaction from the victim to subvert further negative consequences.
Now, when the scammers have tried every means of intimidation on a business owner, and have yet to get them to pay up, their final trick up their sleeve is to pretend to be a mean debt collector. Here again, they go through great pains to make themselves appear to be legitimate debt collectors. They set up alias companies with real attorney names that they know practice debt collection. This is their last ditch effort to make you believe that they have actually turned it over to a debt collector and you have one last chance to save yourself! They will even offer to take a "Partial Payment" if you will pay immediately over the phone with a credit card.
Now they want YOUR CREDIT CARD INFORMATION?! Oh this part makes me cringe, as I can't imagine anything worse, first being harassed by these scammers, and then to boot, them having my CREDIT CARD information! I would encourage anyone that has been victimized with this part of the scam to CLOSE THAT card down now and file a fraud complaint with your credit card company. In some cases, you may even be able to recover your money. I will discuss this in more detail below.
What to do if you have been a Victim of this scam?
First, rest assured that the FTC, every State Attorney General, the BBB, The National Counsel of Fraud in D.C., the USPS postmaster, and countless of other law enforcement organizations are not only well aware of this scam, but have countless documented cases from small business owners.

If you are a business owner and feel that you have been a victim of this scam, it is very important to have the incident documented by filing official complaints with the following organizations:
Your State Attorney General's office. Most State Attorney General websites offer online complaint forms with an area to upload relevant documentation, such as the invoices received.

Business owners should also report the incident by calling the Federal Trade Commission's Identity Theft Hotline, toll free: 1-877-438-4338; TTY: 1-866-653-4261.

The state BBB, where the scam operation claims to be based - In several cases, when businesses file a complaint with BBB against the fraudulent Yellow Pages company, the BBB contacts these operations regarding the complaint, they state that they have audio taped receipts for the online advertising services. Upon review of the audio, the operation claims there was a 'misunderstanding' and agrees to terminate all fees, as well as to remove information about the business from their database. The scammers at this point back off to avoid drawing further attention to their scam operation.

Business owners should also send a written complaint, including relevant documents to the National Fraud Center
C/O National Consumers League
1701 K Street NW, Suite 1200
Washington, DC 20006

If you divulged your credit card information to the offenders, make sure to place a 90-day fraud alert on your account, call one of the following three consumer reporting companies: Equifax, 1-800-525-6285; Experian, 1-888-397-3742; or Transunion, 1-800-680-7289. In addition, depending on the credit card company and card agreement, you may be entitled to recover you money through the fraud protection plan. Your credit card company should know that you rendered payment for services that were not legitimate and never received.

And although, you may think it's too late for preventative measures, remember this phrase, "What doesn't kill you, makes you stronger". Learn from the experience and train your staff to never answer any questions over the phone or email that request even the simplest of business information unless they can verify them as a legitimate source. Also, train your staff to carefully review any invoices received before paying them to insure they are accurate and correlate to an authentic account the business is aware of.

SHARE your story with other business owners, your local Chamber of Commerce, and even reporters that can help communicate the issues out to the public in your area.
AND A FINAL MESSAGE TO THE SCAMMERS
If you are reading this, I have one final thought for you....All Good Things Must Come To An End......and we will continue to aggressively educate the public and empower them to make sure your Fraud Triangle falls short that final side to make it complete.
This informative article was written by our guest blogger:
Kendra Parker
Loss Prevention & Risk Management Consultant
Asset Protection Associates