I recently traveled home to New England for a short visit with family. While at the airport ready to head home I learned there were several travel delays up and down the eastern seaboard, so I knew I would be in the airport for longer than usual.
As I was talking unhappily with the airline representative at the gate I noticed a plane had arrived at our gate and was in the process of de-boarding. Suddenly, behind me I hear an uproar of applause and cheers. As I turned to see what the commotion was about, I watched as several soldiers dressed in their fatigues greeted one of the passengers: another of their troop members had arrived home.
After the eruption of applause and cheers, they quietly turned and headed down the terminal. I suddenly wished there was someone there to capture his welcome home on film.
I realized I could take a picture with my phone, and later email them the pictures if they would allow me to. But as I thought about it the further away they were from me. I quickly began to run through the terminal, down the long corridor until I met up with them. I asked if I could take a picture of them, and mail it to them later. They thanked me for offering to do so and as they began to stand together, one of the men pointed down the terminal and said, "Here's the picture you need to get."
I turned around to see what he was pointing at and quickly realized it was the family of the returning soldier running toward him. I grabbed my cell phone and was somehow able to capture that touching moment and take several joyous pictures, all that I have since passed on an email to the soldiers and their families. (
See a pic below
)
Funny thing, I hoped it would give them a warm remembrance one day but it turns out I'm the one who has a sense of gratitude for that day. I am thankful that I met such brave heroes. The sacrifices they and their families make to defend our security and America's freedom must not go unnoticed.
Please take a moment today to say thank-you to our military vets. Offer a prayer or even a moment to remember that freedom isn't free.
to
Support our veterans and their families every day!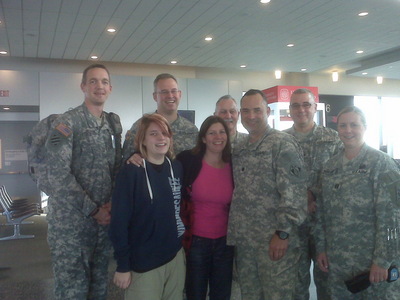 If you want to do something special to help honor our vets, consider donating to the Wounded Warrior Project
The needs of our wounded warriors and the estimated 300,000 veterans battling post-traumatic stress disorder and depression will require specialized attention for years to come.
The Wounded Warrior Project provides services and programs that ease the burden of the wounded and their families, aid in the recovery process, and smooth their transition back to civilian life.