They say a picture says a thousand words. In this case a picture may win you a thousand dollars. Do you have an image that sums up your feelings on the big banks and the dangers of debt? If so, you could win $1,000. DefendYourDollars.org, a project of Consumers Union (the non-profit publisher of Consumer Reports) is promoting their
Dangers of Debt User-Generated Image Contest
, which through an image demonstrates your feelings on any debt-related topic, like credit cards, student loans, car loans, mortgages or other debt.
Join a growing movement to fight against predatory lending practices. Stand up to the
big banks, credit card companies
, and the rest of those banks that write their own rules and refuse to play fair.
Here's an image one consumer submitted;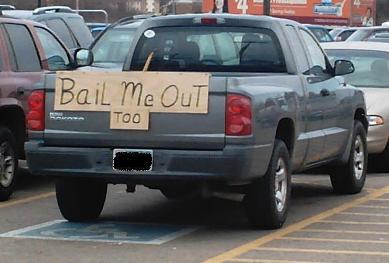 You can find more entries and participate by voting for your favorite image by visiting
CU's Facebook page
.
Here's an excerpt on the contest from Consumers Union:
We want to spread the word and engage the financial reform movement through this contest which shows people's activist spirit, anger, and sense of fairness in a way that words, letters, phone calls, protests, and lobby meetings cannot.

Entry is open to anyone that lives in the United States, District of Columbia, Puerto Rico, the U.S. Virgin Islands, or on a U.S. Military installation in foreign countries. If you are stationed abroad, please use a U.S.-based mailing address to enter.

To enter the Dangers of Debt Contest, create and submit an original image that demonstrates what the "Dangers of Debt" means to you. Your image can be an original photograph that shows consumerism and debt, an artistic hand drawing (check out last year's winners!), a collage, mixed-media image, or create something on the computer. Really any original still image that you can load up will count. We are looking forward to seeing a lot of cool personal takes on the theme of "Dangers of Debt."

Start by thinking about the ripoffs, pitfalls, challenges and/or unfair practices that you and other consumers face when they acquire, accumulate and try to free themselves of debt. Channel some of that anger at the big banks who received huge bailouts and just turned around and ripped off consumers.

The winner will win a one year subscription to Consumer Reports online AND $1,000! Three runners up will also get one year subscriptions to Consumer Reports online.

For more information about the dangers of debt go to
DefendYourDollars.org